It's 2019! Your Masjid should have had a website decades ago with the rise of Web 2.0, as it missed the Web 1.0 era.
We're living at a media-driven time, we're connected to brands and people 24/7 through social media and communication apps like WhatsApp. However, we're struggling to connect with our local Mosque. We aren't familiar with the founder, the Imam or the committee members. We simply pray our daily and Friday prayers and leave without any engagement or attachment to the place.
Surely we should have more connection with our mosques? Here are 5 reasons why every Masjid should have a website to better communicate with their attendees:
1. Prayer times
Our prayer times in the UK is constantly shifting due to long days of summer and short days of winter, on top of the clock change. An average Muslim can't keep track of prayer times and we need to check our local mosque website for start time, end time and Jamat time!
2. Increase Mosque income
Muslims are the most generous people in the UK and we all want to donate to our local Mosque for all the great work they do! For example, keeping the mosque open even after the Jamat times, cleaning up Wadu places and keeping the place warm during cold winters.
We want to donate but nobody carries cash anymore for bucket collections. So it'll be really handy to have a donation feature on the website.
3. Promote events
There's always something going on in Masjids, from sisters bazaar to youth clubs for children. It would be amazing if we could see upcoming events and plan ahead to attend it.
4. Be found
If you're like me and travelling often to new places for work then you need to find a masjid in that area fast. How do you look for a mosque? You Google it. How does Google know you exist? You have a well designed and coded website.
5. Engage your musallis
You don't have to wait until Friday/Jumuah Khutbah to convey an inspiring reminder to Mosque attendees, you can send daily positive and inspiring reminders through your website and social media to people globally. Imagine the rewards of reaching thousands!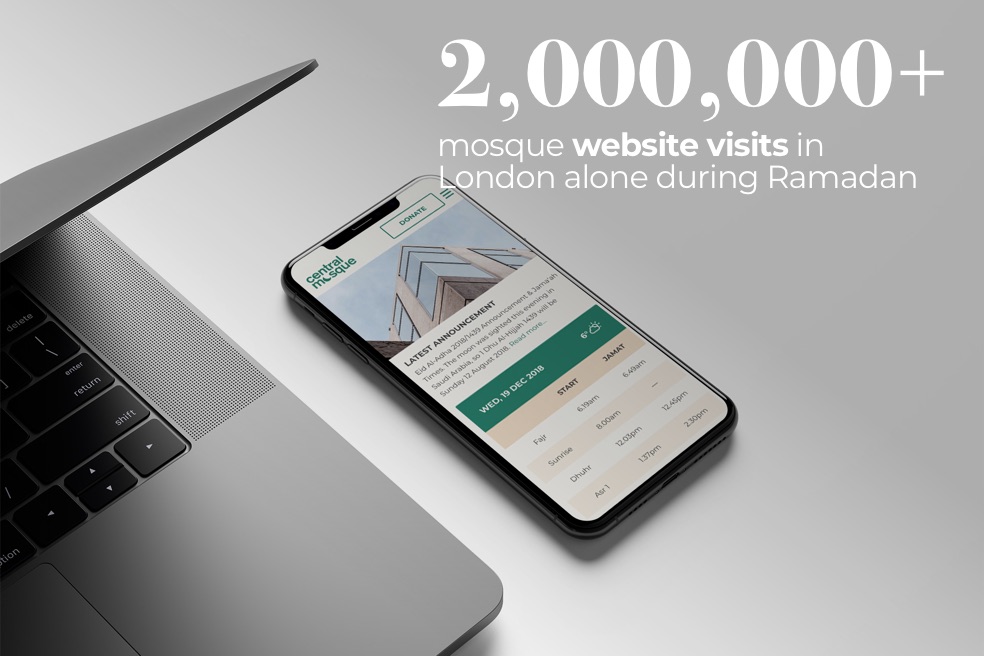 6. Be welcoming
Mosques and Muslim organisations have become victims of negative press by the media in recent years and one of the great ways to combat that is by having your own voice through the website. Naturally, people are scared of the unknown and this includes even our fellow non-Muslim neighbours who will feel at ease and feel welcomed knowing their local mosque is transparent by promoting their upcoming events, showing what facilities are available or how does the prayer hall look inside.